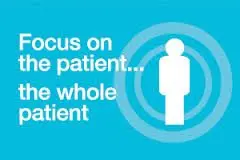 My practice is unlike any other doctors office that you have been to because I focus on you as a whole person and all of your lifestyle choices. Each day we have been granted freedom of choice, which happens to be a contributor to many of the health challenges we face today. These choices typically surround poor food decisions, a lack of physical activity, careers which lead to stress, difficult marriages, and the use of pharmaceutical drugs that have negative side effects in the short and long term. The issue is not so much the person making the choices, but rather, having people become aware of another option which is completely natural and will yield the results that you have always desired.
I have found that people want a solution when it comes to their health; the only issue is that they don't know where to go in order to find the answers. We take a full body, comprehensive approach that will help support you with all of your health and wellness needs. I work with people who have health challenges, but also help people that are healthy bring their wellness to the next level. Regardless of where you fall on the continuum of health, I am here to support all of your wellness needs.
Please call my office 724-934-3911 to schedule a New Patient Exam so we can discuss how I best serve your health and wellness needs.
Love and Respect
Dr. Pete Lawton